It's that time of year again. At UMHS, we do all performance evaluations at once in June / July timeframe.  360 feedback is key – up, down, sideways and customers.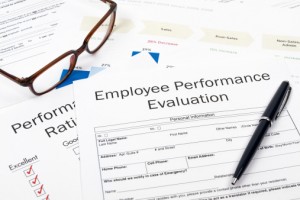 I asked each of my direct reports for at least 6 names – including peers, their direct reports and customers.  Then I requested feedback from those individuals by either email or a phone call.
I just finished answering 8 surveys on colleagues – part of their soliciting feedback on how they are doing.
I sent my survey soliciting feedback on me to about 35 people including peers, internal customers, and direct reports.
The performance evaluation process is better for all if people are honest and forthcoming. As management, we can't see everything that staff do so we need feedback from others.
Soliciting feedback is an interesting process. If people email me back their feedback on my staff it's usually pretty positive. If they want to talk by phone it could mean there are some negatives and candid comments they don't want in writing.  Some people just don't want anything in writing. I never quite understood that.
Some people ignore the requests to provide input and don't want to get involved at all. I definitely don't understand that.
The surveys that we in senior leadership send to each other usually require names. And, the results typically go to a support person to collate.  Names allow direct follow-up to understand the feedback – a good thing – if one chooses to exercise that.
In addition to actual ratings on various statements such as teamwork, communications, leadership, innovation, and responsiveness there are always open ended questions. The 3 key ones we all seem to use are:
What activities or behaviors would you like me to continue doing to help support you and your work?
What activities or behaviors would you like me to improve to support you and your work in a better way in the coming year?
When you see me at my best, what do I do and/or what do you see?
At UMHS, we are in the process of adopting common core leadership competencies which will become a more formal part of the performance evaluation process in the future. Here's the summary version of the 4 domains:
Mission:

Creates value for those we serve
Visions and innovates
Leads change

People

Fosters and builds teamwork
Collaborates and builds relationships
Coaches and develops other

Self

Adapts
Acts with courage and confidence
Communicates effectively

Execution

Achieves results
Solves problems
Aligns culture
I was happy to see one of my colleagues use these competencies in her survey. I wish I had thought to solicit feedback along these new core competencies but it was too late – I had used the same questions as last year. At least I will have a baseline comparison from my first year in this position.
I have pretty good insight into my own strengths and weaknesses. But what others see is important – I can't fully know what to improve if I don't get feedback from others so I welcome it. I may be my own worst critic at times.
We do all employee performance evaluations in the same short time period. It can seem like a burden and it takes significant time. But it gives us as leaders a chance to look across our teams at how people are doing, how we can help them grow and develop, and what new opportunities we can provide. I look forward to the process now.