"EHR Flaw at Core of US Ebola Case".  No CIO could ignore this October 3rd headline. As a CIO, one of our nightmares is that a problem in the systems we implement could cause a major medical error.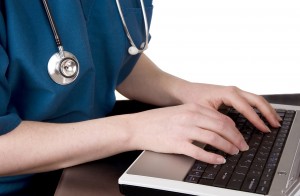 One of our core missions in health care information technology is to prevent medical errors.
The statement blaming "EHR flaw" was retracted within 24 hours as the facts became clear. But as hospitals prepare to safely care for patients with Ebola, the role of the Electronic Health Record becomes more clear.
The EHR is a critical tool for handling any kind of infectious disease.  It is the means by which the appropriate information is captured at patient intake and is clearly accessible and visible to all caregivers. Close coordination between clinicians, operations and IT are extraordinarily critical in designing and implementing clinical systems.
As a part of Ebola preparedness activity, hospitals and health systems everywhere are reviewing their EHR workflows. At UMHS we use Epic for our EHR which we refer to as MiChart. System vendors, like Epic, are assisting organizations to ensure they understand how to utilize the infectious disease alerts in the system.
From a systems perspective we have been focusing on two major areas:
Ebola screening/risk assessment for all patients
Notification to all potential care team members of a patient's risk status
The Emergency Department is the most likely area to receive a patient infected with Ebola so work has been done within the ED module to update risk assessment questions.  If a patient is at risk, a Best Practice Advisory (BPA) alert will display and direct the user to enter the appropriate isolation orders. The BPA also provides additional information on next steps in caring for the patient, and sends a page to the charge nurse and attending physician that the patient is at risk.  In addition, persistent notifications of patient risk status will display in the patient header and through a banner on the Clinical Snapshot report.
Other areas of patient intake are currently being assessed for correct placement of the Ebola Risk Assessment questions and the most effective methods of staff notification.  The OB Triage area and the PreOp phone call already have these elements.  We have identified all areas of patient intake and are meeting with leaders in those areas to apply the MiChart screening and notification functionality, using the ED configuration as the model.
The possibility of Ebola infected patients is a test of all our systems. I am confident that we have the clinical measures to give those patients the best care possible. But to do so, and to do so safely, where the margin of error is so small, comes down to communication: clinicians capturing and recording information from patients and clinicians communicating with one another as part of the patient's care team.
Paper records used to be the norm, where important information might or might not have been captured, or have been hard to find, and could only be looked at by one person at a time. The EHR now helps by requiring information is captured and entered, and can standardize the communication of that information. And right now, there is a lot riding on how well and how tightly hospitals can utilize them.
Resources: