Monday, January 19th, is Martin Luther King, Jr. Day, celebrated as a national holiday since the mid-80's. I've worked for organizations who considered it a formal holiday and those that did not.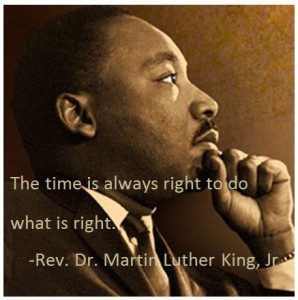 But whether you are working or not on Monday, there are many opportunities in the coming days to celebrate the life of the great civil rights leader. There are educational forums, community breakfasts, and musical events.  I have attended many events over the years and always come away with a renewed commitment to do my part to end the injustices in our society.
I saw the film "Selma" last weekend and highly recommend it.  Why did thousands of people march from Selma to Montgomery in 1965 – to ensure that African Americans could exercise their basic legal right to vote. The movie may be hard to watch in certain scenes, but we have to recognize it as part of our collective history. The violence against black people really happened as depicted. But that was a different time in our history – it was 50 years ago.
Yet the events of 2014 in Ferguson, New York, Cleveland and numerous other cities remind us that we still have a long way to go if we are to create a just society.
Last Sunday, our senior minister (the Rev. Gail Geisenhainer at the First Unitarian Universalist Congregation of Ann Arbor) challenged all of us to move beyond the fear, guilt, self-righteousness, and belligerence that keeps us from rocking the boat. She said that we live in a dominant paradigm of racism that is wrong but it can be changed. She called for a new paradigm of justice.
A recent piece in the New York Times titled "Racial Bias, Even When We Have Good Intentions" is a sobering reminder that white people hold implicit racial bias. Some of the research cited discovered the unintentional bias that occurs in the job recruitment process. I shared the piece with my entire management team for awareness as we make many hiring decisions.
This year, as we celebrate Rev. Dr. Martin Luther King, Jr.'s birthday, let's renew our commitment to act for justice, where we are, and in our roles as leaders. We have much more work to do.
Resources:
University of Michigan Martin Luther King Jr. Celebration Events