When we encourage staff to speak up, we, as leaders, must be ready to listen. I've heard it said we have two ears and one mouth so we can listen more than we speak.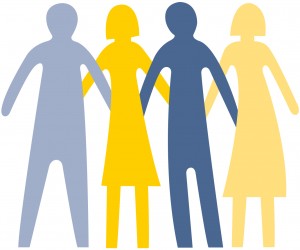 I encourage my staff to "make their voice heard" and have written about this. Yesterday, I participated in the University of Michigan VOICES of the Staff Town Hall Meeting.  It was the third such session in the last ten years and focused on the Future of Work. Over 100 staff from across the university and health system were brought together to help define and shape changes needed in our working environment. The goal of the meeting was to determine the most pressing challenges for all UM staff to develop VOICES work team themes for 2015.
Prior to the town hall, 600 staff were surveyed for ideas.  100 staff members who were willing to give a half day to the town hall were to turn those ideas into concrete proposals. At the end of their working session, each of the 12 groups gave a 30 second "elevator speech" pitch to our new University President, Dr. Mark Schlissel. Talk about empowering! What a tremendous opportunity to be heard at the highest level.
The 12 groups tackled topics such as: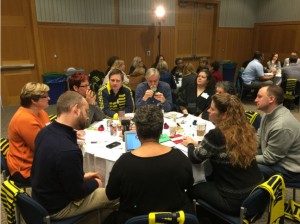 Benefits, Health and Well-Being
Career Development
Diversity, Equity and Inclusion
Future of Work
Leadership Development
Leveraging Technology
Parking and Transportation
Recruitment and Retention
Work/Life Balance
Each table was assigned one of the 12 topics to focus on. They were to look at opportunities, challenges and new ideas for their topic. They were to discuss potential roadblocks to making improvements. And they were to discuss recommendations they would offer to a group who may be addressing the issue in the future.
In his remarks, President Schlissel thanked the group for being there and caring enough to participate. He expressed appreciation and respect for all the staff and said that he and the executive team were open to their ideas.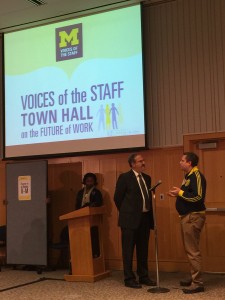 He encouraged the staff to spread the word that we are all in this together.
The pitches included many great yet concise ideas. After all, they only had 30 seconds to convey what they had spent over an hour discussing. Some of the key points made:
On Diversity, Equity and Inclusion – a perceived culture of fear and groupthink impedes an environment of openness
On Future of Work – we need to collapse traditional hierarchy, leverage technology, and design workspace around the needs of employees and departments
On Leadership Development – we need a culture of engagement, mentorship at all levels, and dedicated champions
On Work/Life Balance – change and stress go hand in hand, we need a dedicated change management team to help coach and to provide toolkits on transparent communication
At one point during the pitches, President Schlissel said he hadn't heard an idea without merit and that he would prioritize the input with his executive team. He added that the big challenge is in the implementation, making ideas come to life and staying with them long enough to really make change.
As a leader,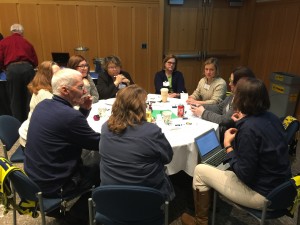 I am committed to listening to frontline staff and to making needed changes. I was encouraged to see the level of staff engagement in the room and that our University President is listening.
Kudos to President Mark Schlissel; Laurita Thomas, Associate Vice President of Human Resources who sponsors VOICES; the VOICE of the Staff volunteers; and all who participated in this very successful town hall.
VOICES of the Staff is a volunteer-based program launched in 2005. It offers University of Michigan staff members an opportunity to share ideas and define the campus community issues that matter most to them. The members of the VOICES network groups are chosen from the overall pool of applicants to represent a microcosm of the U-M staff community (demographics including work areas, gender, ethnicity and union representation). Over 60% of the members work in the health system. It is an opportunity to be heard.
The mission of VOICES of the Staff is to encourage a sense of community among all University employees by promoting and facilitating staff participation through regular dialogue between the VOICES team and executive officers where the staff perspective will provide insight in improving the University system for all.
Resources: