You will be hearing a lot about Cuba after the death of Fidel Castro. I am certainly not an expert on Cuba, but I learned a lot about the country and its people recently on an 8-day Road Scholar tour.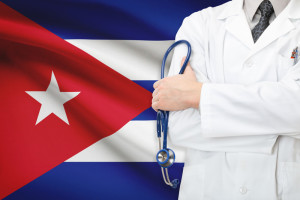 And I was particularly interested in learning about their healthcare system.
"I wanted to see and experience Cuba before it drastically changes with American influence and investment". That was the sentiment from many of our fellow travelers.
The trip was called "People and Society: Cienfuegos to Havana". It included day trips to Trinidad and Santa Clara plus a stop at the Bay of Pigs on our way to Havana. Everywhere we went, we experienced the cultural arts first hand – music and dance from young grade school age students to seniors well into their 80's. We heard a chamber orchestra and saw a contemporary dance show.
We heard lectures on history, politics, and religion as well as how Cuban millennials view the  future. We learned how negatively the U.S. embargo has impacted the people of Cuba. And how they want the embargo fully lifted but with future U.S. investments and development managed.
We had a chance to sit and talk for an hour with a young man who works in a telecom job in health care. I asked about electronic health records and he said they are in the process of implementing a system they have developed.
When I got home and caught up on my email, I learned that a 15-member delegation of healthcare executives visited Cuba while we were there. That delegation was led by former HHS Secretary and Governor Mike Leavitt, and included Dr. David Blumenthal, former National Coordinator at ONC and Stephen Lieber, HIMSS president and CEO. Stephen wrote an insightful blog on the experience. The delegation was a mix of vendor, consulting and provider executives who had gone to see the Cuban healthcare delivery system up close. Continue reading →