There could be as many different wrap-ups on HIMSS17 as there were people there – over 42,000. No one sees the same vendor exhibits, hears the same presenters, or talks to the same people. There are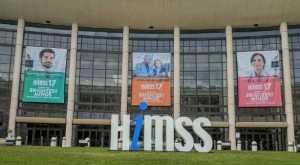 conferences within conferences. So here's just one wrap-up – mine.
The first speaker I heard did a great job of scaring all the CIO's. Kevin Mitnick, the world's most famous hacker and security consultant, and author of several books including his most recent one, The Art of Invisibility, was the opening keynote at the CIO Forum on Sunday. His talk, "The Art of Deception: How Hackers and Con Artists Manipulate You and What You Can Do About It", included real-time demonstrations. He drove home the point about how vulnerable we are as individuals and organizations.  I highly recommend checking out his website to learn more or get scared yourself.
Dr. B.J. Miller was the final speaker at the CIO forum. His talk, "What Really Matters at the End of Life", was a very sobering view of palliative and hospice care yet strangely inspiring at the same time. As he said, "Spending time thinking about your time on the planet while you have time is important – don't wait." I highly recommend listening to his Ted Talk with this same title.
I have been asked to serve on the CHIME Education Foundation Board again so Monday morning meant a board meeting. Continue reading →