This is not about a fabulous vacation on some distant island.
This is another version of "adventures in a new city". That's what my husband and I have called my interim CIO engagements.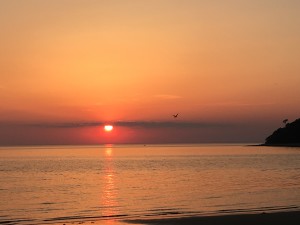 This time "our adventure in a new city" was on Long Island. It was more my adventure than my interim in Cleveland last year; my husband spent more time with me there. We did have two weekends together on Long Island: one in the Big Apple and one to enjoy the island in the summer.
The weekend in NYC was what you'd expect – great restaurants, museums, the subway and a lot of walking. On Long Island, we visited the wineries on the north fork and went to the beach on the south shore. We got more ideas for our garden after a walking tour of gardens and landscapes in Port Jefferson. It made me want to spend more time here and, who knows, with a ferry between New London, Connecticut and Orient, New York, we just may do that.
The island is 118 miles long – the longest and largest island in the contiguous United States. Suffolk County makes up the eastern 2/3 of the island. I learned the history of Long Island's growth and eastward expansion over the past 50 years and how Stony Brook Medicine fits into that growth, providing quaternary and tertiary care to Suffolk County. Continue reading →