This morning I was looking out my window at a new 3 inches snowfall while making conference calls. Tonight, I'm driving past palm trees. This afternoon I was on I-95 driving to the Providence airport for a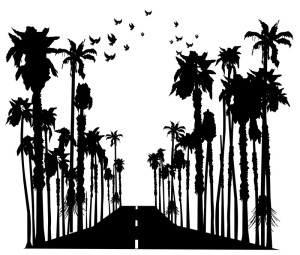 flight to see a new client. Tonight, I'm exiting a Florida airport in a rental car and merging onto I-95 heading south.
With google maps piped through the car rental audio, I am confident I will get to the hotel 50 minutes away. I have done all the initial lane changes and merging, so now I've got a 19 mile stretch before the next turn. It's safe to call home on speed dial and chat with my husband. I do the ritual "woe is me" that my flight was delayed, the airport was busier than I expected, and there was a long wait for the car rental center shuttle. But I'm finally on the road to my hotel much later than expected and very hungry. I am aware that these all are first world problems.
We have the "I'm still on I-95 but with palm trees" conversation. When I exit I-95, it is crystal clear that I am 1,500 miles south of the I-95 I'm used to. The "lady" in the car audio is telling me to merge onto Dolphin Expressway. No road in Rhode Island is called Dolphin Expressway!
I dislike busy unfamiliar expressways, driving at night (especially with lane changes) and driving in the rain (in that order). Fortunately, this was only 2 of the 3 – it was dry, with no rain (or snow). In these situations, lane management is critical, and the navigator system can only help so much. And good signage is critical or as my daughter says, "use your eyes".
What does this have to do with healthcare and IT? Continue reading →