People often ask me how I find time to write a weekly blog with a big, busy CIO job. I tell them all the same thing – it's a discipline. I try to start early in the week with an idea, draft it one night, come back to it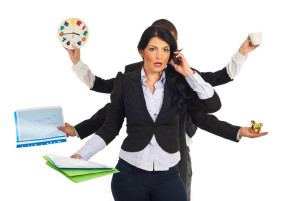 the next night to finalize and then post it on Thursday or Friday morning. Topics are often timely; something strikes me and I tell myself "that will blog". I add the idea to my running list. This week it included tips on doing presentations for executive groups, personal organization challenges and tips, and what's possible to accomplish as an interim leader in just 6 months.
But this week I had as many as five new ideas but no time to start writing any of them. By Thursday night if I haven't settled on a topic and started, I'm in trouble. Taking time to write may compete with critical work I need to finish up by the end of the week. This week was one of those weeks.
This week started out with a bang.  By 9AM Monday, I was juggling 4 different issues. Continue reading →