Transitions of leadership are going on all the time in our organizations: a new CEO, a new VP, or new management at another level; it is change.
As I've written about, I just completed such a transition. I have served as an interim CIO for 8 plus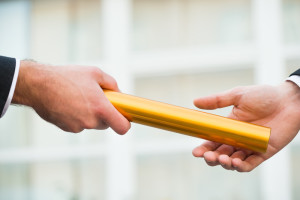 months. The agreement for the engagement was that I'd stay through the successful transition to the new CIO. We envisioned a 30 day overlap.
As the start date for the new CIO approached, 30 days seemed very long. Wouldn't the new CIO want to get in and get started without me around? But as she and I started planning that time, 30 days seemed reasonable for all that we needed to do. When it came time to start the transition, there was so much else going on each day we found it hard to find the time to focus on the transition work. In the end, we both agreed 30 days was the right amount of time and extremely helpful to her.
But a 30-day overlap and transition period can be a luxury. Organizations often go through leadership transitions with far less time or even no time for the old and new leaders to work together. When I took the interim engagement, I had an hour conversation with the previous CIO on his second to last day; that was it. Continue reading →