We make all kinds of decisions every day. Some are small yet seem difficult at the time. One I sometimes joke about is ordering off a restaurant menu that has too many good choices. When I finally make my order, I tell the server that I have made my "major life decision" for the night.
Sometimes a group makes a decision after weeks or months of lengthy deliberation: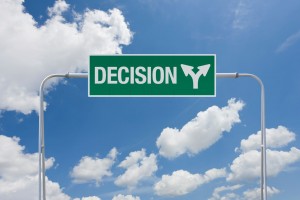 many groups have weighed in, expressed their concerns, asked their questions, refined the plan or recommendation, and only then ultimately provided their support.
And then there are the potentially very impactful decisions that must be made in a matter of minutes with the best information you have available after a very quick weighing of the risks. I had to make one of those decisions last Friday.
We had scheduled our Epic version 2014 upgrade for the weekend. The plan was to bring down the production system at 12:30 AM Saturday. The system would be down until 5:00 AM while the final conversion tasks were completed. IT and operations staff were scheduled in the command center to monitor the upgrade and address any problems. Leadership calls were scheduled daily to review issues starting Saturday.
At 11:51 AM on Friday, I got a text Continue reading →