This week, I participated in another HIMSS Analytics Acute Care EMRAM Stage 7 review team as the CIO reviewer. During the opening presentations by the organization's leadership, I leaned over to the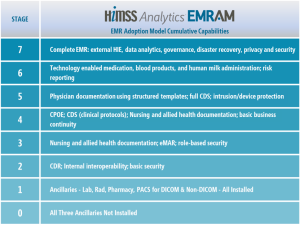 full-time HIMSS reviewer to say, "They are hitting it out of the ballpark". By the end of the day, our three-person review team had indeed reached that conclusion. The full-time reviewer said, "Some organizations barely clear the bar but this one far exceeded it."
Only 6.1% of hospitals have achieved Stage 7.  What does it take?
On review day, the review team is presented with information that includes a system overview, including governance, clinical and business intelligence, health information exchange, and plans for disaster recovery and business continuity.
The review team has been given a 17-page document that includes checklists for each major clinical area.
Several case studies are presented that demonstrate how the organization has used the system to improve clinical care.
The organization prepares for this visit for months, developing the case studies and verifying they have met every specific criterion. The full-time reviewer spends time on the phone reviewing their readiness.
Achieving Stage 7 takes teamwork throughout the organization to fully leverage all aspects of the vendor's product. It takes engagement and passion from executives and clinicians.
The organization we were reviewing implemented their EMR according to these guiding principles: Continue reading →