As we all watch events in Washington unfold, each of us knows that the organizations we work for expect us to behave ethically in all that we do. We sign confidentiality agreements; we complete conflict of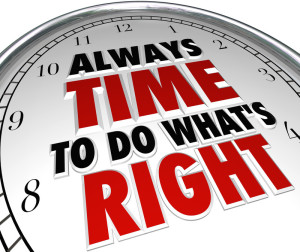 interest disclosures and we receive ethics training.
Whether you consider yourself a "rules follower" or one who likes to "ask for forgiveness, not permission",  you know that you must act ethically and lawfully.
I appreciate the advice I received from a boss early in my career – always do what's right for the organization. If there is any doubt when I fill out my conflict of interest form, I error on the side of disclosing more rather than withholding information.
And then there's nepotism – something both small and large organizations need to manage. They figure it out. Unless you are a family owned business, you should not be hiring or managing family members.
I worked at an organization that was named by the Ethisphere Institute as a "World's Most Ethical Company" five times since 2012 – University Hospitals in Cleveland, Ohio. Their Chief Compliance Officer, Kim Bixenstine, and the entire executive team took great pride in this honor. And they should. University Hospitals is one of only seven healthcare providers named to the list in 2017.
Ethics starts at the top. Continue reading →