A year ago, I suggested to my husband that I would consider doing a series of interim CIO engagements. He is a retired minister and does a lot of volunteer projects for the denomination and ministers association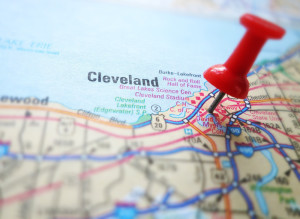 – all from his home office. So he was supportive. His view was we'll just have an adventure in a new city. We'd bring the dogs with, stay in an apartment and go home to check on our house once a month. That was a great working assumption.
The first interim opportunity was at University Hospitals in Cleveland, which was a great location to start this plan!  It's just a short 3-hour drive from our home in Ann Arbor. But then we relocated from Michigan to Rhode Island in order to be near family so things didn't work out quite as we planned. There was way too much work in Michigan to sell and move out of our house; on the other end way too much work to find a house and move into it. So I've spent many weeks in Cleveland on my own without my soulmate to have those new city adventures with.
But in the past 8 months, we got to know Cleveland as best we could and it's truly been a fun adventure! Some of the highlights to pass on to our new CIO who has relocated to Cleveland from Iowa and anyone planning to visit: Continue reading →