Like many, I am surprised and disappointed at the outcome of the presidential election. From some of my previous posts the past few years, there's probably no question about my political leanings.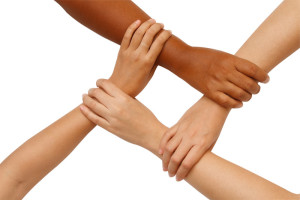 A new message of "forward together" is needed now more than ever. Only half of all eligible voters voted on Tuesday. Half of them voted for Donald Trump and half for Hillary Clinton. She got more popular votes. But that means only one fourth of the country elected our next president. He will need to be a president for all of us.
A dark cloud has hung over us during an incredibly divisive and bitter campaign with often hateful language and bullying behaviors. We may have been afraid to talk to co-workers or neighbors or family members in fear they may support the other candidate and we did not want to have to debate with them. People on both sides felt this way.
Hillary Clinton's speech to her staff on Wednesday had many important and inspiring messages as we move forward as a country. I encourage you to find the speech online to gain some perspective and to renew your hope for the future.
I watched her speech with my husband and the general contractor on our outside house project. He and his crew have been working here for several weeks on a major redo project – new patio, landscape and fence. They are a nice group of guys and we chat each day. But we consciously never brought up the election.
The general contractor needed to talk to us about a change order so came into the house Wednesday morning. He saw we were not in a good mood and asked who we had supported. He told us he voted for Trump. Bottom line, he thought a change was needed but admitted that he couldn't defend a lot of what Trump said on the campaign trail. We debated a bit but it was civil.
He said he wanted to see Hillary's speech when it came on. I went outside and got him when it was time. He sat in our living room with one of our dogs on his lap and watched. I sat behind him in the kitchen with tears. He thanked us for letting him come in and watch and said she made some great points. I told him that I did it with a big heart. Continue reading →