New ideas can come from many places. Are new ideas the same as "innovation" which has become almost a buzzword these days? According to Webster's Dictionary, the answer is yes.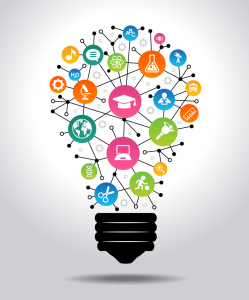 Innovation is defined as "the introduction of something new OR a new idea, method or device."
In the past week, I've met with health care CIO colleagues from around the country, heard some excellent speakers at our UMHS annual leadership day and met with my staff at our semi-annual all staff meeting.  New ideas came from all those varied places.
Meeting with CIO colleagues last week, I heard a lot of great ideas. I learned about a new mobile app that addresses the stress that families feel when their loved one is in surgery because they lack information. I learned about a storefront "genius bar" service inside a hospital that helps patients and families sign up for the patient portal, get information about the best mobile health apps, and connect their FitBit or glucose monitoring device to health apps. I learned how one colleague is applying a successful implementation go live readiness assessment approach to ongoing project and support work. And I learned how a colleague is leveraging a product's additional functionality only to realize that we haven't begun to make the most of that same product here at UMHS. I will be sharing all these ideas in more detail with my leadership team in the coming days. Continue reading →