"Most Powerful Women in Healthcare IT" – Health Data Management, 2016 & 2017.
"50 Top Healthcare IT Experts" – Health Data Management, December 2015.
"11 Hospital IT Executives You Should Follow on Twitter" – Health Data Management, August 2015.
"50 Leaders in Health IT" – Becker's Health IT & CIO Review, July 2015.
"Top 10 Most Influential Healthcare CIOs on Twitter" – Perficient, April 2015.
"100 Hospital and Health System CIOs to Know" Becker's Hospital Review, 2013, 2014, 2015.
"10 CIOs You Should Follow on Twitter Today" –  FierceCIO, April 2014.
"Top 10 Women 'Powerhouses' in Health IT" – Healthcare IT News, April 2013.
"8 Influential Women in Health IT"  – Fierce HealthIT, October 2012.
I've been in Health Care Information Technology Management for over 30 years; it's been my life's work and my passion. I try to remember every day that the purpose of all the technological and organizational changes I have seen is to improve the quality, safety and accessibility of health care for everyone.
So much has changed since I first took up this work. My first management assignment was managing personal computers as they first entered our environment. Some of the first people I managed are now leaders in the field.
One of my passions is the development of the next generation of IT leaders, especially young people who are beginning their careers or who are beginning to take on leadership roles. I've been there: a young mother of two with a full time management job while a part-time graduate student.  I remember the years when I was the only woman at the leadership table.
With this weekly blog, I share perspectives on the critical issues facing Health Care IT, the organizational transformations that IT organizations face, the challenges of leadership, and the work we need to do together to keep the paths of opportunity open for all. What we do matters.
________________________________________________________________________________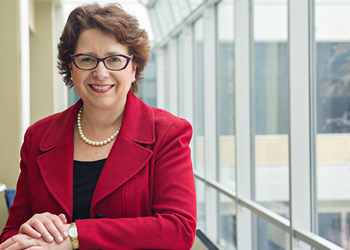 Sue Schade, MBA, LCHIME, FCHIME, FHIMSS, is a nationally recognized health IT leader and Principal at StarBridge Advisors providing consulting, coaching and interim management services.
Sue recently served as the interim Chief Information Officer (CIO) at Stony Brook Medicine in New York. She was a founding advisor at Next Wave Health Advisors and in 2016 served as the interim CIO at University Hospitals in Cleveland, Ohio.
Sue previously served as the CIO for the University of Michigan Hospitals and Health Centers and prior to that as CIO for Brigham and Women's Hospital in Boston. Previous experience includes leadership roles at Advocate Health Care in Chicago, Ernst and Young, and a software/outsourcing vendor.
She is active in CHIME and HIMSS, two leading healthcare IT organizations. Sue was named the CHIME-HIMSS John E. Gall, Jr. CIO of the Year in 2014.