It doesn't matter what you think about beauty pageants. It doesn't matter if it's been years since you watched one. If you have ever been cared for by a nurse you need to know about the dust-up last week following the 2015 Miss America pageant. Miss Colorado, Kelley Johnson, is a nurse and she was named second runner-up for Miss America. Her talent offering was a monologue describing how she cared for an Alzheimer patient and how it helped her realize how she was more than just a nurse. It is a talent clip that has been seen by millions at this point.
The women who host the daytime TV show, The View, disrespected Kelley and all nurses with their comments the day after. It sparked a social media firestorm for several days. Hashtags such as #NursesUnite were all over Twitter. Once advertisers pulled out of The View, the co-hosts apologized. Media outlets have covered this including Time Ideas and Huffington Post with posts describing what it means to be a nurse. Our own University of Michigan Health System video, "Day in the life of a nurse" was shared again widely on social media.
In support of nurses everywhere, I'm sharing "A salute to the nurses among us" post I published on May 12th during National Nurses Week.
A salute to the nurses among us
National Nurses Week officially ends today, May 12th on Florence Nightingale's birthday. But of course you can thank a nurse and recognize him or her any day, any time. Many of us have personal stories of being cared for by a nurse with great skill and empathy.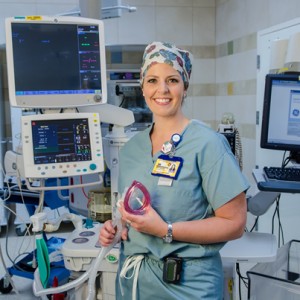 When I was growing up, I wanted to be a teacher. But my part-time high school and college jobs were actually as a nurse aide in nursing homes. I saw firsthand how nurses cared for the elderly and how hard their work was.
There are several nurses in my family whom I love dearly and respect greatly. I know I can call on them whenever I have a health question. I have to be careful to not abuse this access.  Every family who has a nurse or doctor amongst them knows how valuable they can be.
My sister, Mary Sheehan, is a nurse. She went on to get a master's degree in public health. She ran just about every division in the Minnesota public health department during her long tenure with the state. Before retiring she served as a county health and human services director.
Mary's husband, Tim Sheehan, is also a nurse. He went on to get his master's degree in rehabilitation counseling and then a PhD in clinical psychology.  He served as executive director and senior vice president at the Hazelden Betty Ford Foundation. He was instrumental in establishing the Hazelden Betty Ford Graduate School of Addiction Studies and is currently Professor and Director, Institutional Effectiveness for the graduate school.
My oldest daughter, Katie Killinger is a nurse practitioner. She works as the lead NP on a rapidly expanding inpatient orthopedics unit at Brigham and Women's Faulkner Hospital in Boston. Her full career story is yet to come….she tells me she has truly found her passion as a nurse practitioner. I know she has many bright years ahead of her.
And we have many nurses on our IT team who have made the transition from bedside nursing to focus on designing, implementing and supporting the critical systems that nurses and other caregivers rely on every day.
As you can see from these few stories, nurses can take many directions during their career.
Our nurses at UMHS are to be commended for what they do every day to care for our patients. As our senior associate director and chief of nursing services, Marge Calarco, PhD, RN, noted this past week, "the UMHS nursing community of 5,000 nurses in a multitude of practice and advanced practice roles is more committed than ever to embracing excellence, compassion, connection and caring."
Our IT team works very closely with front line nurses, nursing management, and the nursing informatics team.  Our collective "offering" to them for National Nurses Week was the upgrade to our EHR that we completed this past weekend. Our nursing partners are already starting to see the benefits of many new functions and features. I hope they see it as a gift!
Resources: