My mother had to go to work to support four children after my father died from cancer. I was active in the women's movement in my college years. So, I can't imagine women not having a career outside the home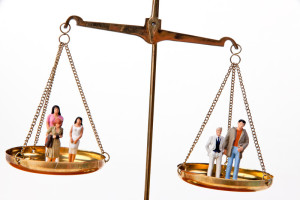 if they so choose or if they have to support themselves and their families.
Although I was very interested in math growing up, I got into IT somewhat by accident; I had wanted to be a math teacher. But in the late 70's the field of computer science was exploding and there was an easy entry path. I went to a technical school and got a certificate in programming.  I learned to code in 7 different languages. I doubt that any of them are still remotely useful.  I didn't work as a programmer for long but stayed on the IT path. I worked as an analyst for a while and then moved into management in 1984.
Take Our Daughters and Sons to Work Day (TODASTW) is coming up soon – April 28th. Last year, we had a very successful event at University of Michigan Health System and I'm hoping they are doing it again even bigger and better this year.  I've learned that we don't do any TODASTW programs at UH. With everything else on my plate, I wasn't going to try to start it in our IT department.
Technology is a significant part of our future – as workers and consumers. Technology jobs are some of the highest paying jobs. Continue reading →