National Nurse Week begins tomorrow. I'm fresh off a 4-hour shift shadowing a nurse on a busy inpatient unit with cardiac surgery patients. I was taking part in the "Walk in My Shoes" program at Stony Brook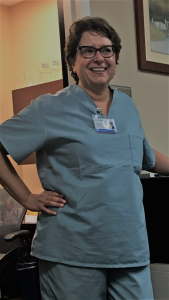 Medicine where I currently serve as interim CIO.
All the executives were asked to block out 4 hours this week to shadow a nurse. I looked forward to my shift despite the other work on my desk. And as I told the nurse I shadowed, spending time on their unit was more fun than some of the problems I deal with as a CIO.
But I wasn't there to have fun. I was there to understand what a nurse's day is like and find ways that administration can help. And as the CIO, I wanted to understand how they use the systems we support and to find opportunities to improve them.
I donned a pair of scrubs, the universal hospital uniform and a fashion neutralizer. It's amazing how different it feels to be on a nursing unit in scrubs compared to being a "suit" who periodically does rounds with a bunch of other "suits". The staff seemed more willing to just tell it like it is when I encouraged them to be candid with me.
As soon as got to the unit a nurse realized I was from IT. His first thought was that I was there about a system problem that had been reported in the patient safety system. I introduced myself and my role as interim CIO. I told him that while I was there to shadow another nurse, I wanted to hear about their IT issues.  This was my "gemba" walk with a group of nurses. Continue reading →