I usually stay away from politics here, but last Friday was just too monumental.  On June 26th, the U.S. Supreme Court ruled definitively in favor of marriage equality. It's now the law of the land, and for me, it's personal.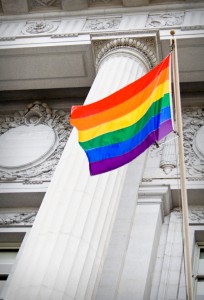 Many families have secrets. Something everyone knows but nobody talks about. But that sounds so yesterday. And yes, for many it is. Yet many families still struggle with acknowledging that a loved one is gay or lesbian. Yes, family secrets – we all have them.
My family is no different. My Aunt Dorothy was born in 1914 and died in 1997 at the age of 83. She lived her entire adult life with her partner, Teal. There was never an open discussion in our family; to us, they were just "life-long friends". Dorothy and Teal met while serving in the Women's Army Core (WAC) during WWII, and lived together until Teal died in 1990.
Dorothy, a life-long Roman Catholic never heard a Pope say, as Pope Francis has, "who am I to judge?"
The pain of same sex couples to be accepted and respected in our society was never more evident for me than when Teal was in her final days. Dorothy had cared for her at home as long as she could, but once Teal was hospitalized, the hospital staff ignored Dorothy.
Dorothy was there all day every day and managed all of Teal's care, but when Teal died the hospital didn't call her. They called Teal's nephew instead who had visited her only once or twice while there.
Dorothy walked into Teal's room to find an empty bed.  Continue reading →