What consultant doesn't want to work close to home as much as possible? But you go where your clients are and you get used to traveling.
It was one of those weeks. There was the usual 2-hour drive plus the 1 hour ferry ride to my interim CIO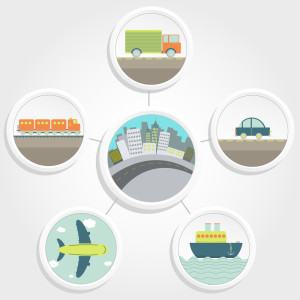 engagement on Long Island. Monday was the first time I worried about missing the ferry. My "wiggle room" on the drive part evaporated with bumper to bumper traffic as soon as I got on I-95 in Providence. I sweated it but I made it!
Then there was a same day trip from New York to Chicago for a CHIME Education Foundation Board retreat. It seemed like a good idea when we agreed to fly in and out the same day but reality of that can be brutal – a very long day!
And finally, there's the commuter rail train ride into NYC to meet my husband for the holiday weekend.
I'm happy to not depend on airports for my current weekly commute compared to many who are truly "road warriors". I feel a little spoiled. My biggest stress is whether I'll hit traffic on I-95 and have to take a later ferry.
When I was the interim CIO at University Hospitals in Cleveland last year, it was a predictable 3.5-hour drive from Ann Arbor. A few times I ran into huge traffic jams and a long out of the way road construction detour. But it was mainly a predictable weekly commute. And productive when I could get some calls done during the drive.
Once we moved to the Providence area, it meant a weekly flight. The Providence airport has fewer direct flights. I had to choose between connecting flights which increase potential delays or the longer ground transportation to get direct flights out of Boston. I chose the latter.
Then my current engagement on Long Island came up. Driving through NYC or flying was a non-starter. It was a "go" when I learned about the ferry option.
The Bridgeport-Long Island ferry has turned out to be the best part of my commute – it's calm, focused time. As weather gets nicer, the Thursday night trip is great for decompressing. And I never get tired of watching the engineering feat the ferry workers perform, as they squeeze all our cars, SUVs, and trucks onto the ferry. I complimented one worker as he said, "it's like a bad puzzle".
When it comes to making time on planes productive, the best is when there is no one next to me. I spread out like it's my own little desk area. The worst is when the person in front of me leans the seat back. The only way I can use my laptop is to make my arms all stubby like a Tyrannosaurus rex.
One time, I saw a businessman on the Logan Express shuttle with all his receipts laid out on his lap and the seat next to him. He obviously was getting organized to submit his travel expenses. The ultimate in travel productivity. For his sake, I hoped there were no sudden stops to send his neatly piled receipts flying.
I appreciate airlines trying to make it easier for travelers with technology. It's not that advanced but I love those gate areas that have charger plugs between every seat so you don't have to fight for 4 outlets on a single pole. And being able to get alerts for flight delays and gate changes saves a lot of hassle. My gate changed 3 times at JFK on my way to Chicago – one after another alert coming through my iPhone. And the power of integrated systems for flight scheduling means you get a flight cancellation notification before you leave home and are automatically re-booked on another flight.
So what have I learned with all this travel?
Be patient, you are not in control. Whether it's weather, traffic or delays that are never explained you have to just go with the flow.
If you really have to get somewhere by a certain time, have a backup plan.
Consider alternative means to air travel if you can, that's a plus living in the Northeast with good train service.
Leverage technology and don't make unnecessary trips.
Minimize flight connections; they just increase the chance for delays.
Maximize your productive time.
And be good to yourself – invest in sound cancelling headphones and have that novel ready for evening flights. After all, we need to sign-off from work at some point!
Enjoy the long Memorial Day Weekend, the unofficial start of summer. Safe travels however you get there!