This is not about a fabulous vacation on some distant island.
This is another version of "adventures in a new city". That's what my husband and I have called my interim CIO engagements.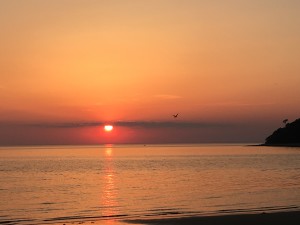 This time "our adventure in a new city" was on Long Island. It was more my adventure than my interim in Cleveland last year; my husband spent more time with me there. We did have two weekends together on Long Island: one in the Big Apple and one to enjoy the island in the summer.
The weekend in NYC was what you'd expect – great restaurants, museums, the subway and a lot of walking. On Long Island, we visited the wineries on the north fork and went to the beach on the south shore. We got more ideas for our garden after a walking tour of gardens and landscapes in Port Jefferson. It made me want to spend more time here and, who knows, with a ferry between New London, Connecticut and Orient, New York, we just may do that.
The island is 118 miles long – the longest and largest island in the contiguous United States. Suffolk County makes up the eastern 2/3 of the island. I learned the history of Long Island's growth and eastward expansion over the past 50 years and how Stony Brook Medicine fits into that growth, providing quaternary and tertiary care to Suffolk County.
Unfortunately, I've not had many free evenings to enjoy the area. But I did find a favorite little clothes boutique in Port Jefferson. And I've had some delicious dinners out with friends and colleagues. I saw winter turn to spring then summer with the lushness of the island along every road.
Most weeknight evenings have been at the guest house working – either going through Stony Brook emails or doing Skype coaching sessions with IT leaders around the country. And with StarBridge Advisors approaching its first birthday, I have learned that building a business takes time. It takes time working our social media channels, connecting with prospective clients, writing proposals, or bringing in new talent.
But I've also had my share of exercise and sunsets. I could go into the photography business if I were any good – I have a gazillion sunset and deer photos from my nightly 30-40 minute walks. I'll miss the view from the guest house looking out over the Long Island sound – very calm in the morning and a sky filled with spectacular color at night.
My colleagues at Stony Brook Medicine have asked what's next for me – do I have another interim lined up? The answer is no next interim on the horizon but a few consulting projects and continued coaching. And of course, some downtime and travel. StarBridge Advisors has several very experienced CIOs, CISOs, and CTOs currently available for interim engagements. I'll be focusing on finding them interim opportunities in the coming months.
My daughters, however, are putting me to work right away. We're taking two grandkids to the zoo on Monday because their daycare center is closed for a state holiday. And at the end of the week we're doing a day and half with the two other grandkids so their parents can get away for the weekend.
You don't think about visiting hospitals when you visit a new area, nor should you. But know that if you ever find yourself on Long Island and need health care services, Stony Brook Medicine is one of the best academic medical centers and is ready to take care of you!
There is much more to Long Island I haven't experienced but it's truly been a great adventure. Thanks to all my new Stony Brook Medicine friends for welcoming me. And all the best to the new CIO, Kathy Ross, who has been inundated with background information from me these past 3 weeks. She is a quick study, a very experienced CIO, and will do a terrific job!
Related post: