Monday was the 42nd annual  C.S. Mott Children's Hospital Golf Classic. While the golfers have a lot of fun, it is a significant annual fundraising event that makes an important difference in the lives of children and their families at Mott Children's Hospital.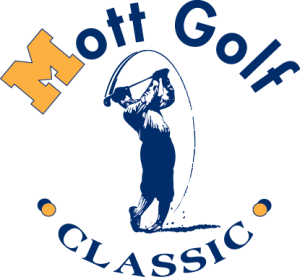 Over the years, individual and organizational sponsors have provided support for computers at patient bedsides, medically safe camps for children with serious health issues, assistive devices for children with special needs, and many more important projects and services.
The Mott Golf Classic is committed to advancing pediatric medicine and enhancing the care experience for patients and their families. It supports unique initiatives that distinguish Mott Children's Hospital which is ranked as one of the best children's hospitals in the country by U.S. News & World Report.
Reminding all of us in health care why we do what we do, each year a child and their family are recognized as an honored guest and we hear their story.  This year Larry Prout Jr. and his parents, Larry and Kathy, along with his five older siblings and other family members were the guests of honor.  Larry Jr. was born with three birth defects – Spina Bifida, Cloacal Exstrophy, and a massive Omphalocele. His parents didn't know if he would make it through the first 24 hours after birth and there were many times during his first six months that he had to fight for survival. With their love and the specialized medical care of a multi-disciplinary team at Mott, Larry Jr. overcame many setbacks. He is celebrating his 14th birthday on June 11th.
One of my IT leaders, Joe Kryza, Executive Director of Infrastructure and Systems Operations, has made significant contributions over the past 10 plus years to the Mott Family Network, a non-profit volunteer organization that many of our IT staff contribute time to.  It is funded by corporate sponsors and charitable donations such as the Mott Golf Classic.
It was wonderful to see Joe awarded the Bob Kelch Classic Champion Award at this year's Mott Golf Classic. Several years ago, the Mott Golf Classic Committee established this award to recognize an individual who has demonstrated substantial commitment and dedication to Mott Hospital.
Rick Bossard, Chair of the Mott Golf Classic Committee, presented the award to Joe stating:
He has been in the middle of the Classic for more than 20 years. He has been a great friend and has supported patients and families in ways too numerous to mention. He has led the way in bringing the Mott Family Network and assistive technology to the patients and families at Mott. This whole effort started with his vision of "a computer at every bedside." This was followed by a push into assistive technology (for our patients) and then followed by bringing 21st Century IT to the Ronald McDonald House. Now he's engaged in putting an X-Box at every bedside in Mott. We've also deployed three 3-D printers across Mott.
Here are some key IT initiatives sponsored the Mott Family Network:
The first project began in 2002, installing computers at every bedside in the children's hospital
In 2004, a guest network was implemented to allow patients and their families to stay connected to the outside world
In 2006, networking, gaming stations and other technologies were installed to create a family lounge in the children's hospital
In 2010, a collaboration with the UM College of Engineering began, resulting in innovative solutions to support pediatric patients such as their work with Mott patient Grace Simon
In 2012, a multi-year project was started to provide internet access for residents at the Ronald McDonald house
All of these efforts benefit the children and families that Mott Children's Hospital cares for.
There was another reminder for me that evening of how IT is part of the extended care team and how much the clinicians depend on the systems we provide and support. Several of my executive directors who were either at the golf outing or just at the evening dinner event spent a considerable amount of time on the phone dealing with a major incident. We were experiencing a delay in ADT transactions – that's admit, discharge, transfers for the non-hospital readers. The impact was that clinicians caring for patients on the floors and ancillary services such as lab and pharmacy didn't have current information on new patients when they needed to enter orders. The root cause was related to month end processing involving eligibility verification after the Epic 2014 version upgrade we did in mid-May.  Through the diligence of these leaders and their teams, we resolved the problem. This is just one more example of how what we do in IT makes a difference in how patients are cared for.
Just as I was proud to see Joe recognized for his significant contributions to the Mott Family Network that night, I was also proud to see my leaders and their staff focused on ensuring our systems were working 100% for our clinicians.
After all, it's about our patients.
Resources:
IT services for patients and families at C.S. Mott Children's Hospital